THE EVENT
MahoganyBooks is excited to be hosting the award-winning illustrator of the bestselling book, Crown: An Ode to the Fresh Cut, Gordon C. James to the store for a Meet & Greet book signing on December 7, 2019. His lush, vibrant illustrations capture the confidence, pride, and magic black and brown boys feel the moment they get a new haircut and admire their own beautiful reflections in the mirror. 
Join us on December 7, 2019, from 2:00 PM to 4:00 PM to meet the artist genius behind the award-winning book Crown and get a copy autographed to give your son, nephew, cousin, or grandson a Christmas and/or Kwanzaa gift they'll cherish for years in their library.
See you then!
Note: Only books purchased from MahoganyBooks are permitted into the event for signature. 
THE BOOK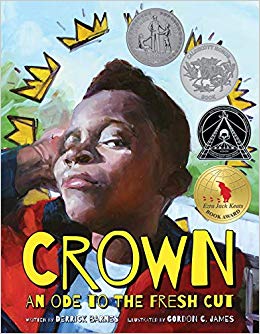 Crown: An Ode to the Fresh Cut
Named one of the best books of 2017 by NPR, the Huffington Post, Publishers Weekly, Kirkus Reviews, the Los Angeles Times, the Boston Globe, the Horn Book Magazine, the News & Observer, BookPage, Chicago Public Library, and more
The barbershop is where the magic happens. Boys go in as lumps of clay and, with princely robes draped around their shoulders, a dab of cool shaving cream on their foreheads, and a slow, steady cut, they become royalty. That crisp yet subtle line makes boys sharper, more visible, more aware of every great thing that could happen to them when they look good: lesser grades turn into As; girls take notice; even a mother's hug gets a little tighter. Everyone notices. 
A fresh cut makes boys fly. 
This rhythmic, read-aloud title is an unbridled celebration of the self-esteem, confidence, and swagger boys feel when they leave the barber's chair--a tradition that places on their heads a figurative crown, beaming with jewels, that confirms their brilliance and worth and helps them not only love and accept themselves but also take a giant step toward caring how they present themselves to the world. The fresh cuts. That's where it all begins. 
Crown: An Ode to the Fresh Cut is a high-spirited, engaging salute to the beautiful, raw, assured humanity of black boys and how they see themselves when they approve of their reflections in the mirror.

THE ILLUSTRATOR
Gordon C. James, a graduate of the School of Visual Arts, is a nationally recognized, award-winning fine artist specializing in figurative drawing. He is the illustrator of the Scraps of Time children's book series. He has worked for Hallmark as an illustrator and artist and has taught at the University of North Carolina. He lives in Charlotte, North Carolina.