MahoganyBooks Presents an Afternoon with Journalist, TV Host Ed Gordon
Join us for a powerful afternoon with hard-hitting, award-winning journalist and television host, Ed Gordon as he  and MahoganyBooks Co-Owner, Ramunda Lark Young, discuss his new book, Conversations in Black.
The Author:
Ed Gordon is a widely respected, award-winning journalist. Over the course of his stellar career he's been worked at various television networks including BET, NBC, MSNBC and CBS where he hosted and contributed to programs including: Conversation with Ed Gordon, BET Tonight, BET News, 60 Minutes II, NBC's Today Show and Dateline. He is also a former host of Our World with Black Enterprise, NPR's New and Notes.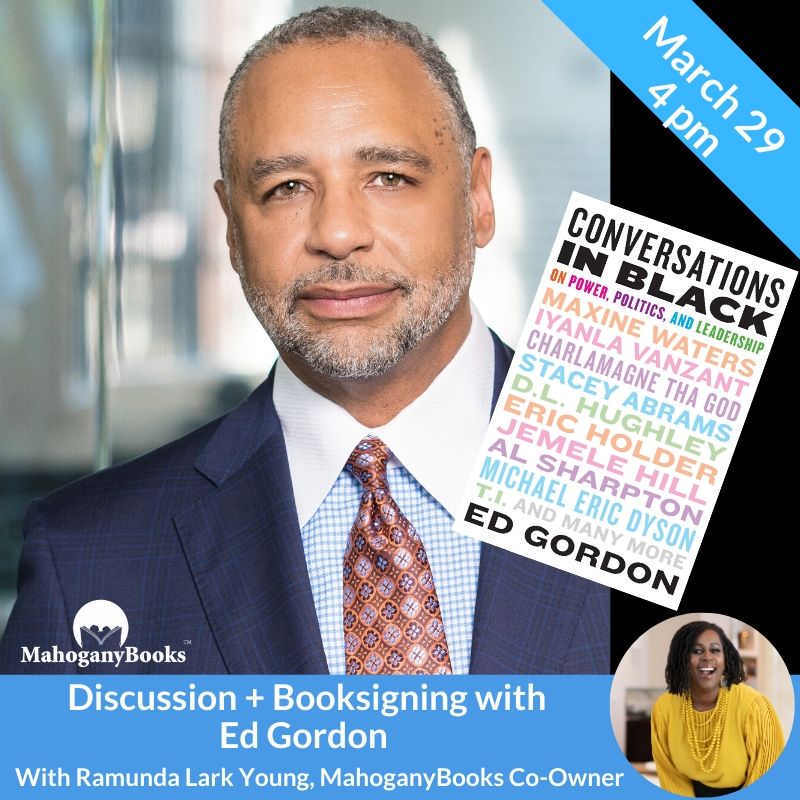 The Book: 
In Conversations in Black, Gordon brings together some of the most prominent voices in Black America today, including Stacey Abrams, Harry Belafonte, Charlamagne tha God, Michael Eric Dyson, Alicia Garza, Jemele Hill, Iyanla VanZant, Eric Holder, Killer Mike, Angela Rye, Al Sharpton, TI and Maxine Waters, and so many more to answer questions about vital topics affecting our nation today, such as:
- Will the black vote control the 2020 election?
- Do black lives really matter?
- After the Obama's presidency, are black people better off?
- Are stereotypical images of people of color changing in Hollywood? 
- How is "Black Girl Magic" changing the face of black America?


Bombarded with media, music, and social media messages that enforce stereotypes of people of color, Gordon set out to dispel what black power and black excellence really looks like today and offers a way forward for all in a new age of black prosperity and pride.
Our Conversation Host: 
Gordon will be in conversation with MahoganyBooks Owner/Co-founder Ramunda Lark Young, entrepreneur, community leader, speaker and forthcoming author. 
Parking:
Limited street parking throughout the neighborhood.  Rideshare encouraged.
Please Note: 
This event is open to the public.  Your paid ticket includes a guaranteed copy of the book.  To join the book signing line, you must purchase a copy from MahoganyBooks.com, our store, or at the event.   MahoganyBooks will have very limited additional copies onsite.  Ticket holders who purchased the book option, must be present to have it autographed.  A signed copy is not guaranteed if you are not in a attendance (we will be happy to ship your new book to you within 10 days of your paid shipping fee).

Doors open at 3:45pm.  Event begins at 4:00pm
About MahoganyBooks
Started in 2007 by husband and wife, Derrick and Ramunda Young, MahoganyBooks is the fastest growing online bookstore for people of the African Diaspora. It has grown from being exclusively an online bookstore to opening the doors of their first physical location in the historic Washington, DC neighborhood of Anacostia. Over the years, MahoganyBooks has connected readers to writers for exciting and thought-provoking literary events with the likes of U.S. Representative John Lewis, Walter Mosley, Chimamanda Adichie, Ta-Nehisi Coates, Misty Copeland and former DC Mayor Marion Barry among others.