MahoganyBooks proudly presents a special book event with actor, comedian, Tommy Davidson.  Join us for an insightful discussion featuring Tommy's new book,  Living in Color: What's Funny About Me.
About the Book:  
In 1990, Tommy Davidson burst onto the scene in the Emmy Award-winning show In Living Color, a pioneering sketch comedy show, featuring a multi-racial cast of actors and dancers who spoke to an underrepresented new generation created by Hip Hop Nation. In this revealing memoir, Tommy shares his unique perspective on making it in Hollywood, being an integral part of television history, on fame and family, and on living a life that has never been black and white--just funny and true.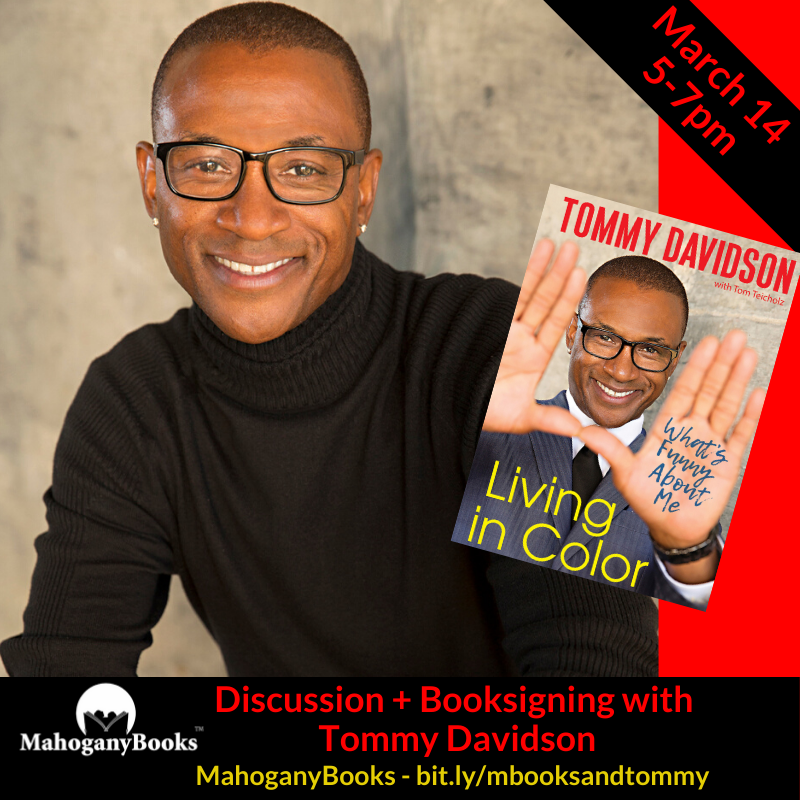 About the Author: 
Tommy Davidson's exceptional range – from stand-up comedy and acting to versatile music accomplishments – have earned him a reputation as an extraordinary performer.  Best known as one of the stars of the hit television show In Living Color, his visibility has allowed him to become a household name known for his innovative talent. 
Davidson started his career as a standup comedian in Washington DC, earning an ardent following.  Spotted by major concert promoters, he was first booked as the opening act for Patti LaBelle, Kenny G and Luther Vandross.  It wasn't long before he came to Hollywood and was headlining the biggest rooms and met Robert Townsend.  This led to his first national tv appearance and starring role in Partners in Crime, the conduit to Keenan Ivory Wayans, who proved instrumental in Davidson's career by offering him an opportunity to audition.
Tommy and Jamie Foxx, Jim Carrey, Damon Wayans and David Alan Grier — the uniquely talented cast of the most adventurous primetime variety show on television, In Living Color (1990), made TV history. The iconic sketch show was honored with the 'Groundbreaking Award" by TV Land in a star-studded salute on its 25th anniversary and will be touted this April '19 at Tribeca FF with another major award.
Event Details:  
All An autographed copy of Living in Color is included with your paid ticket.  Limited copies available for purchase onsite.
Please Note: 

This event is open to the public. To join the book signing line and guarantee your copy of the book, you must register via this site. MahoganyBooks will also have very limited additional copies onsite. If you register and are unable to attend, your books may be mailed to you within 7 days of the event. Please call the store to process shipping and send mailing details or arrange to pick-up in person.
Doors open at 4:15pm. Event begins at 5:00pm

Parking:

Limited parking. Rideshare highly encouraged. Parking available along the street.
About MahoganyBooks

Started in 2007 by husband and wife, Derrick and Ramunda Young, MahoganyBooks is the fastest growing online bookstore for people of the African Diaspora. It has grown from being exclusively an online bookstore to opening the doors of their first physical location in the historic Washington, DC neighborhood of Anacostia. Over the years, MahoganyBooks has connected readers to writers for exciting and thought-provoking literary events with the likes of U.S. Representative John Lewis, Walter Mosley, Chimamanda Adichie, Ta-Nehisi Coates, Misty Copeland and former DC Mayor Marion Barry among others.