Contactless Ordering Experience
No monthly fees, no contract.
QR Code ordering and point of sale.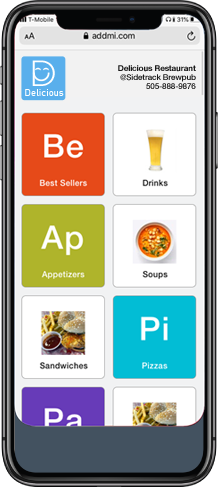 ONLINE & ONSITE
CONTACTLESS
DELIVERY
SCHEDULED
PICKUP

TABLESIDE
Differentiators
What makes Addmi different is that we bundle together all of the best features into a single platform, with no need for your customers to register or download an app to take advantage of the benefits. With our QR Codes, not only do you see the menu, but, you can order, pay and your location is embedded in the code. The Addmi business model is unique in the point of sale industry because we do not charge monthly fees and we don't tie you down with contracts.
Pricing: Your Success is Our Success
Online ordering / QR code ordering - your customer pays a minimal 30 cent fee
Point of Sale - 15 cents fee per transaction, paid by you or passed on to your customers
Email Marketing platform - ties into your growing Customers list, and costs only $1 per 1000 sent
Delivery Service - use the Postmates fleet and pay only 10% (compare to 20-30% with other services)
Cost Plus Pricing - available for the lowest payment processing fees thanks to our partnership with Square!
How Online Ordering Works With Addmi
A Contactless Order

Customers scan a QR code with their smartphone to see your menu. The customer places their order without touching a menu or interacting with a server.

Receive & Confirm

The order shows up on your Addmi POS and kitchen display. The customer is sent a text message confirming the order.

Complete & Notify

When ready, your team taps the complete button. Your customer receives a text message informing them that their order is ready for pick-up.
Happy Addmi Customers
We would love to add your logo to our growing list of customers