Restaurant Management Power
Keep your busy front of house and kitcken in sync and running as efficiently as possible.
Server shift reviews
Servers can view current tip amounts
Quickly view orders awaiting payment
Manager can move orders to different tables
Easy switch between Table and Tab mode
Fire items to the kitchen
See all Point of Sale features ➞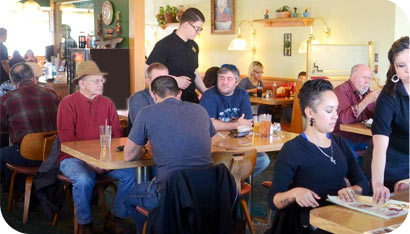 The software you need to succeed
Start using Addmi and all of your favorite features at no extra cost.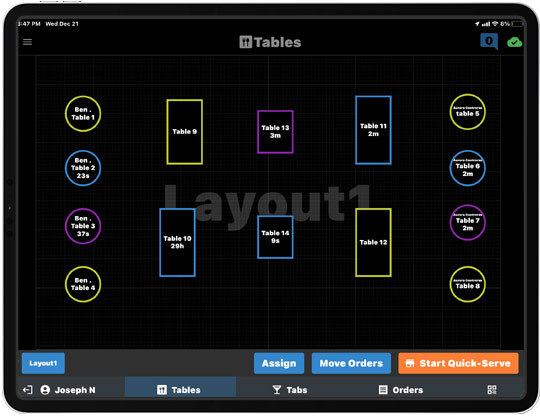 Table Layout Mode
Turn tables quickly and with smooth service with good communications between front and back of house.
Table Maturity - track how long orders have been open
Easily move orders across tables
Ability to start multiple orders on the same table
Pass orders from one server to another
Color code status of items sent to the kitchen
Supports multiple layouts and sections
Staff Management
Managers can access all real-time staff information to keep operations running smoothly for all shifts.
Create and adjust employee timecards
Review and manage all employee shift information
Assign servers to table sections
Servers restricted to only view their assigned orders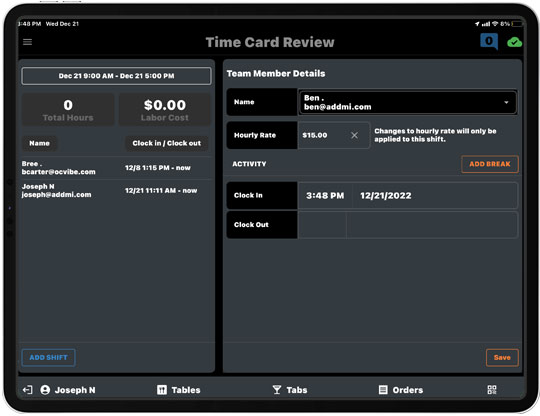 Order Management
Your customers will love our order flexibility almost as much as will your staff.
Split orders into multiple checks
Move items to existing checks
Split item cost across multiple checks
From an Addmi Customer
"It really helped with our flow, with the kitchen and communication with our customers. It's been helpful, and I think it's going to be really food for the future."
Quinn
Owner, May Cafe