Kitchen Display System
Addmi's KDS offers flexibility that allows you to adjust the screen to ensure it fits your needs. This centralized screen streamlines communications between the various areas in your restaurant keeping things organized and maintaining the most efficiency from your team.
No extra cost for KDS

Online and POS orders sent right to the KDS

Filter orders based on fulfillment method with presets

Send texts for customer order confirmation

Print receipts and tickets for incoming online orders

Fulfill orders or individual items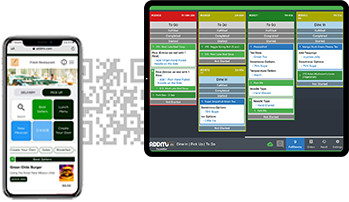 That's not all...
Expediter Screen
Enabling Expediter mode on your kitchen display screen allows all stations fulfillment progress to be watched through their stages until completed either by the station or the expediter.
Fulfillment Summary Bar
Get orders out of the kitchen and onto the table faster with the Fulfillment Summary Bar. Instead of seeing orders one by one as they come in, this feature groups matching dishes together and provides an overview of the total count for bulk preparation.
Fulfillment Warning Threshold
Fulfillment methods can now be separated by threshold times. If dine-in threshold times are set to a lower time frame then carryout, dine-in orders will jump to the front of the kitchen display screen so cooks can prioritize getting the dine-in orders completed first.
Double Fulfillment
One item being sent to multiple stations makes complex kitchens run smoother. If an item has multiple prep stations it will be sent to all stations and completed individually at each station until the last station fulfills the order triggering a completed state.
Advanced Features
Automated Loyalty Programs

Set your own points based on store visits or amount spent, awarded by purchase or item. No app or account creation needed by customers. Customers are automatically added to your loyalty program when they order, points are awarded at time of purchase and can be used toward paying off order.

Built-in Email Marketing

Keep customers coming back with our built-in email marketing tool. Once a customer places an order on you Addmi Online store, their information is collected and stored in your Addmi dashboard. Create campaigns based on groups for specific messaging or send an email to your whole database.

Detailed Reports

Access reports such as Sales, Labor, Payment & Refund, Transactions, Discounts, and Loyalty all from the palm of your hands. Reports are available on your Addmi dashboard and can be accessed from anywhere with an internet connection.

Membership Platform

Addmi's membership platform offers a built-in solution for those businesses that want to elevate the customer experience by providing them with special member pricing, free items on their birthday, free items for number of visits, or award them gift cards for their loyalty to your business. Not only does this make your customers feel appreciated, memberships can also boost revenue per customer and increase referrals.
Solutions to Meet Your Needs
Whether you are looking for a solution for your quick-serve or full-service restaurant, with all the features or just plain and simple ordering, Addmi has you covered.